The ASAM Pain & Addiction: Essentials Online
4.75 (8 votes)
Register

Non-Member - $195
Regular Member - $145
Retired - $95
Early Career Physician - $145
Resident - $95
Student - $95
Associate - $95
ASAM Staff - Free!
International Member - $145
Emeritus Member - $145
Provisional Member - $145
Fellow Member - $145
Honorary Member - $145
CRT Member - $145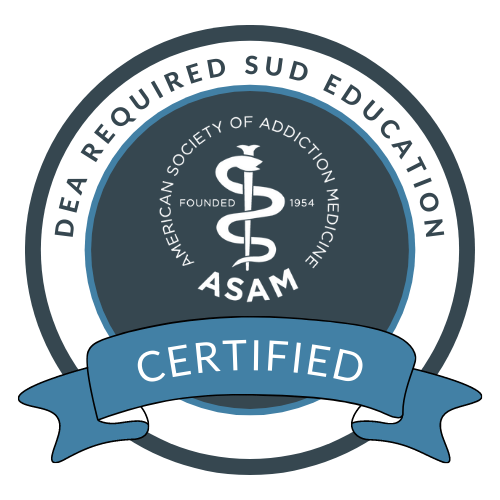 The ASAM Pain & Addiction: Essentials Online
On-Demand Modules
Overview
This 6-hour, on-demand series consists of 6 modules that cover the foundations of pain and addiction including the science, stigma, screening and assessment, treatment, and interdisciplinary approaches. The modules are self-paced and include interactive activities, knowledge check questions, video content, and text-based content. All modules can be taken together as a full 6-hour course or can be taken individually to fill learner knowledge gaps in pain and addiction topics.
Learners looking for more advanced topics in pain and addiction should register for the Applied Skills Workshop (intermediate level) or the Common Threads Course (advanced level), learn more here.
The target audience for this introductory series includes: primary care physicians, fellows in training and residents, providers who are new to addiction medicine or are early in their career and other members of the care team who are looking for introductory topics on pain and addiction.
This series addresses the following ACGME competencies: Patient Care, Medical Knowledge, Practice Based Learning, Interpersonal Skills, Professionalism, and Systems Based Practice.
DEA Education Requirement
As an accredited organization in Section 1263 of the Consolidated Appropriations Act of 2023, ASAM certifies that completion of this course meets 6 hours of the DEA requirement for 8 hours of education on substance use disorder(s).
Registration Rates
You can purchase the entire 6-Module package at a discounted price.
| | | |
| --- | --- | --- |
| ASAM Learner Type | 6-Module Package Rate | 1-Module Rate |
| ASAM Member | $145 | $29 |
| Non-Member | $195 | $39 |
| Associate Member | $95 | $19 |
| Resident Member* | $95 | $19 |
| Student Member* | $95 | $19 |
*Residents, Fellows-in-training, Interns, and Students must join ASAM to receive a discounted registration rate. Click here to become an ASAM member. National and Chapter membership dues apply. There is no charge for Students to become a Member, but verification of student status is required.
Membership Question? Call ASAM at 1.301.656.3920, email us, or view the ASAM website for more information.
Refunds & Cancellations
All ASAM e-Learning Center refund requests must be made in writing to education@asam.org within 90 days of purchase. Those requesting refunds for courses that are in progress will receive partial refunds or e-Learning Center credit. Automatic full refunds will be made for any course with a live-course component that has been cancelled. Please check the FAQ page for more information.
Registration Deadline: 05/30/2024
Series Instructions
Click on the Content tab to view all modules within the series. Click the View button to access a specific module.
Within each module, select the Contents Tab to begin the activity.
Participants will need to complete post tests and evaluations for each module. Medical Credits are claimed within the module and are not available for the entire package.
Need Assistance?
For assistance logging in, accessing activities, claiming credit, or for other questions or concerns, please check the FAQ page or e-mail Education@ASAM.org
ASAM is proud to offer eSSENTIAL Accessibility to ensure our website is accessible and functional for all our learners while providing free assistive technology for people with the widest possible range of abilities.